The Corporation Tax Annual is part of a collection of Core Tax Annuals published by Bloomsbury Professional. There are eight volumes in all, making a complete set. Apart from corporation tax, the annuals deal with: income tax, capital gains tax, national insurance contributions, stamp taxes, VAT, inheritance tax and trusts and estates.
This year, there's another set of annuals to deal with the Scottish taxes. Because as you're all aware, Scotland has recently been following its own tax map – Scotland can set its own tax rates and has its own set of stamp taxes called Land and Buildings Transaction Tax. And soon, Wales and Northern Ireland will follow suit. Creating a nightmare for tax practitioners.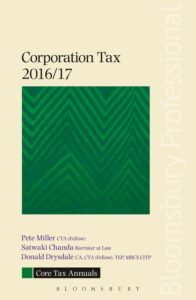 But this year, something else is a bit different about the Corporation Tax Annual. Notice something about the cover? Yes, one of the authors is yours truly.
And it seems they were very grateful:
@SatwakiChanda @PeteTaxMiller thank you very much Satwaki for all your hard work

— Bloomsbury Tax (@BloomsburyTax) 15 November 2016
Well well well.
A little background to the Corporation Tax Annual
The Corporation Tax Annual is largely written by Donald Drysdale who has been responsible for reshaping the book into a form that is more easily accessible for practitioners. Donald was the sole author for a number of years until last year, when he took up an important appointment related to advising on Scottish taxation (I hope I've got that right).
Donald was replaced by two authors – Pete Miller and myself. No one in the tax world really needs an introduction to Pete Miller. Pete has written numerous articles in various tax journals and magazines over the years, practitioners' books as well as being on various important committees and speaking at tax conferences and events all over the country. Pete also has his own consultancy practice at the Miller Partnership.
I feel very grateful to have had this chance to work with Pete on this project. I have of course read and enjoyed his articles over the years, though not yet had the pleasure of seeing him giving a tax talk. But I must say it has been a lot of fun working with Pete – his enthusiasm and joy for the subject is infectious, and I always find myself chuckling when reading one of his emails.
And indeed I have to say it's been fun working with everyone else at Bloomsbury. I have been quite impressed by the team there – very clued up, very professional and also very welcoming when I first met them all earlier this year.
What is the Corporation Tax Annual about?
Before I go any further, I'd like to stress that this isn't a book review. I couldn't possibly review a book that I've had a hand in could I? I believe that the standard practice is to take on another identity and supply a five star rating through Amazon. A good idea until they find out who you really are.
The book is about corporation tax of course. It is aimed at practitioners with the idea of providing:
"a clear, concise guide to the principles and practices of corporation tax, focused on the particular needs of most companies and their advisers."
The topics cover the mainstream tax issues that one would normally come across in practice. Topics relating to smaller companies, owner managed businesses as well as those relating to larger companies. This year, we restructured the book slightly by grouping various chapters together. For example:
After the introduction, the first few chapters relate to trading issues – what is a trade, how are trading profits and losses calculated, group relief;
Next a series of chapters on companies that invest rather than trade, with a particular emphasis on property matters;
More specialist topics then follow such as R&D reliefs, UK Patent Box, loan relationships;
Chargeable gains, distributions, reconstructions;
International matters such as transfer pricing;
Compliance matters (which no one really likes but this is very very important as we all know);
Finally an accounting chapter and a Year-End planning checklist.
Is it worth getting the book?
As I mentioned, this isn't a review. Though I would be very pleased if you did buy the book and perhaps read it from time to time. In fact I expect a number of you in private practice will have access since your organisation will probably have a subscription to Bloomsbury products, both hard copy and online.
But what would be really useful – if you do decide to buy it and/or use it – would be feedback. Any feedback – as long as it's polite! I would be particularly interested to hear from readers who have come across examples in practice which are not necessarily covered in the book. As we all know, there are things that one sees in a text book and there are things that one sees in real life – most of the time they agree, but sometimes they diverge. And after all, for practitioners, it's what happens in practice that really matters.
A short note about Tax Notes
I am afraid I've been very neglectful of my own site. I have even had various queries from interested readers which I've been very lax in responding to, and for that I sincerely apologise.
The fact is, I have been working on a number of other publications apart from the Corporation Tax Annual. Over the past year, I have been getting an increasing number of requests for contributing articles to various newsletters, as well as updating chapters for practitioners' textbooks. This April I took over from Rebecca Cave as Editor of Sumption on Capital Gains Tax, another substantial project that requires quarterly updating.
So, sorry I've not had as much time as I would have liked for Tax Notes. However, that doesn't mean the articles are going to stop completely. I still have a number of these in the pipeline, so they will eventually come out one day. Soon I hope!
A small digression
I mentioned earlier the idea of an author writing a review of his own book under a pseudonym. Of course, there are some well known instances, but I thought I'd share with you one instance that is perhaps a bit lesser known, but all the more entertaining.
There is a person who attended the same school as I did – I won't say I went to school with him because he was in the year above me, and I don't really know him. Though I am quite alarmed that years later, I found him to be a linkedin connection with one or two of my own linkedin buddies (people I've actually met).
Well, this person decided to write his "life story" – a sensational account of life in the City – under an assumed name. Except this name – well you could tell it was made up, no one has a name like that. Just for the purpose of this little story, I'll call him Bart Doppleganger (apologies to the real Bart Doppleganger wherever he is).
Now it turns out that Bart wasn't diligent enough to hide his true identity (or maybe he wanted to be caught). His cover was blown and in fact you could find out who he really is if you put your mind to it (I am not telling). But it also turns out that this Bart Doppleganger – the pseudonym – has a separate linkedin account. And that he has precisely one linkedin recommendation – all it says is "very good author!".
Guess who wrote that recommendation.
Furthermore, Bart's life story is up for sale at Amazon and it has two five star ratings! One of these has a review from Katja which goes:
"Haven't received my copy yet but knowing the author I'm sure it will be a rollercoaster ride, with plenty of laughs on the way!"
You haven't read it? You know the author? Is your name really Katja? Are you a particular person's girlfriend by any chance?
And the other five star rating – well, guess who wrote that one. Under his real name.
You know, you'd have thought that someone who has gone to university, who has a legal qualification to boot, would have at least…well…at least used a bit more vim when trying to pull this sort of stunt. As Anne Shirley once said:
"Have you no imagination?"  (from Anne of Green Gables by LM Montgomery)
Good night and good luck
As I am writing this, it is the morning of the Autumn Statement. The Chancellor will tell us (or not tell us) what is going to go into the next Budget in March 2017. And I have yet to receive my tax legislation for the 2016/17 session. I am told they will be delivered in the first week of December, which means that they may well be about a week out of date by the time I get them.
Something is not quite right here.
For all you practitioners reading this – I hope the rest of your day goes as smoothly as it possibly can. Good night and good luck.

The following two tabs change content below.

Satwaki Chanda
Satwaki Chanda is a tax lawyer with a First Class degree in Mathematics. Called to the Bar in 1992, he is the Editor of Tax Notes.

Latest posts by Satwaki Chanda (see all)